Services to Make Your Everyday Life Simpler
Banking is better with a suite of powerful tools made to help you get the most out of your money.
Mobile & Online Banking
There are bound to be days when stopping by your local branch seems impossible. Luckily, Horizon Credit Union offers a robust portfolio of online services, making it easy for members to manage money from home or on-the-go.
Move Money
Send money to friends / family or transfer money from your Horizon account to your accounts at other financial institutions – for free! Funds Transfer makes it easy to split the bill for dinner, give your kids their allowance or move money between your different financial institutions. 
Teller Express
Prefer to do your banking over the phone? With our Teller Express, you can access your accounts and loans 24 hours a day, 7 days a week. Check balances, transfer money between accounts, make a loan payment and more!
Contact us for a Teller Express PIN and get started today!
Digital Wallet
Why open your wallet when your phone is in your hand? Add your Horizon credit and debit cards to your mobile wallet on compatible devices to pay in store, online or in apps!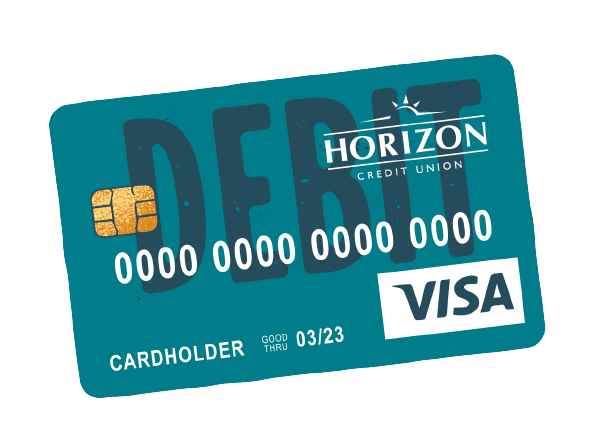 Debit Cards
A debit card is quicker than making a trip to the ATM, more convenient than writing checks and safer than carrying cash. You can even choose the card image that suits you best! If your card is lost or stolen, you can stop by any Horizon Credit Union to get an instant replacement.
Payment Options
We make it easy to pay your loan online with several convenient payment options! Whichever option works best for you, we've got you covered.
Security
Your security is important to us. That's why we provide free fraud and identity theft protection tools for your account at Horizon. Take advantage of our favorite features for monitoring and keeping your account safe.